I read in the Lonely Planet California, that a perfect thing to do in San Diego at this time of year is to fly kites. We've seen a few people with them. The kids have never flown one. I don't remember the last time I flew a kite. It was certainly nothing I remember working very well! Well, I now know that that's because we never tried at the best place!
The Best Place to Fly a Kite: The Beach
You don't even need to run with it!
Up the kite goes, all by itself. Higher and higher into the sky. Way up high.
Miss 3 was pleased as punch that she could do it all by herself. Stood there, gripping the handle, she was a picture of confidence and success.
Miss 6 was so elated it just wasn't enough to stand there holding it. She strutted down to the breaking waves, twisted and danced in the foaming water, pelting out the entire soundtrack of Frozen. It was beautiful.
I was taken aback by how much she's grown, how she played, how she moved, enjoying every second of seeing her in her own little world. She was completely oblivious to everybody and everything except her song, the waves and the kite.
We only bought one kite, I hadn't been entirely convinced that they'd be able to do it by themselves, or that they'd find it entertaining for more than five minutes.
I was wrong on both of those counts. But for once, having one didn't turn into a battle of sharing. It turned into a game. Whoever had it ran off up the beach with it, and whoever caught them got to fly it next.
Mr 1 was even content gripping onto the handle, plucking away at the cord, and glancing up every now and again at what was at the end of it.
A very easy and relaxing afternoon. Broken by sudden shouts from Miss 3. I turned to see Mr M sprinting toward the apartments at the back of the beach grasping after the handle, as the kite flew higher and higher, only slightly out of reach and then disappeared over the roof of a building. 'Nooooooooo' came the cry. Heartbroken disappointment.
But wait! It got caught in a tree.
The kite rescue party returned…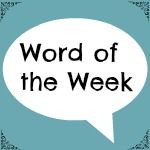 My Word of the Week: RESOLUTION
Sometimes things just don't work. Sometimes they go wrong, when moments ago they'd been working! Sometimes ideas don't work out the way we wanted them to. There's nothing wrong with disappointment. Sometimes there's nothing that can be done about it, and hard as it is we can only move on. But sometimes it's not the end! Sometimes what you thought you'd lost, you find. What was broken, can be mended. It may not look quite like it did before, but it not only works, there's fun to be had! And what a gift to give a child, if instead of teaching them that mama or pappa can probably fix something, teaching them that disappointment doesn't need to be the end of it. Giving them the chance to solidify their belief in themselves to resolve disappointment, to shake circumstance and shape outcome – resolution.
Miss 6 wiping the tears from her face: 'We can find something else for the handle Mama!´
23 Comments