Going on a hunt for snail shells was not my idea!
Miss 6 had come home from school with a few the day before and excitedly told of how hers had been empty but her friend's had had a snail in it! I can imagine that was a delightful moment of discovery! 'We're going on a snail hunt' she announced to Miss 3, and off they stomped with their buckets. Five minutes later there were two other children climbing into the bushes with them. Fifteen minutes later, an additional two with buckets of their own, and all of them
crawling around under fir trees… Apparently that's where you find the smallest, and 'cutest' shells! The biggest ones are under leaves in the regular planting beds.
After more than an hour hunting for snail shells in they all came ready to paint them! And out came my #BestPurchase  plastic mat for the kitchen table, a fantastic accessory for any table surrounded by kids, and especially those with any kind of access to paints and pens.
It was great seeing how focussed they were on trying to colour the uneven surfaces and master how they could hold them and paint them at the same time. Everyone was figuring out for themselves which pens and paints worked well and which were nearly invisible once they started drying. My contribution was a pack of wet wipes, and my gift to them, freedom to do what they'd planed without interference.
When they'd finished painting I lay out a strip of kitchen paper on the work bench so they could leave their snail shells to dry. One of their friends took a pen and wrote everyone's initials on different sections of the paper so they'd know who's were who's. Who ever said children need grown-ups to keep a track of things!
They want to make necklaces out of them now.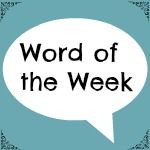 My Word of the Week: ADVENTURE
In the midst of our children's adventures and outdoor discoveries, we're planning our family's  too. Less than a week to go before we're off to California for five. Our evenings have been spent cramming The Lonely Planet, trying to find accommodation and see what activities or tickets need to be booked before we go. We've marginally avoided being scammed on Craigslist and enlisted the help of all of our American friends for better sites to review and where to buy basic equipment so we can do more self catering than eating out… Adventure!
Little ones looking for some adventure this weekend?
– What about building an outdoor assault course? We made our's out of planks (here)
– A picnic, whatever the weather! Catch us at the beach (here)
– Did you miss the poo game? (here)
…What about a Snail Hunt?