DIY Memory Game
Another one of those 'what can I do? what can I do?' moments from Miss 6 and Mr M had a brilliant idea! 
Make your own memory game. We have a paper cutter at home so cutting a few pieces of paper into playing cards took less than a minute (once we actually got it of course!), and she was off. There's no doubt about the fact that there are endless reams of ideas in her head, there were a few only second long hesitations between finishing one pair of cards and starting the image on the next.
The little extra challenge of needing to draw the same thing again for the matching card was a good one, and those were the moments when she slowed down just a little to really get them matching.
Mr M hadn't given Miss 6 any prompts at all – just let her get on with it. But it would be a different challenge to see if a child wants to make a fruit game, or vehicles, or things they like; and an additional nuance to draw items that begin with the letter 'A' for example, or that live under water. In all honesty, whenever we start to suggest any such thing to Miss 6 she's already way ahead of us & our poor attempts at an idea are swept under, in the wave of her imagination.
We only realised later, after the girls had had a few dissatisfying 'draws' that there should have been an uneven number of pairs if anyone was going to be able to
win at a close call – something to think about next time! Miss 6 was however thoroughly impressed with the game she'd made and went straight over to her box of hair bobbles to grab one and wrap it around the cards to hold them together – a fantastic idea!
Of course it didn't take anywhere near as long time to finish this entire project as Mr M had hoped for – who had to continue to make tea to the tune of 'what can I do now?, what can I do?' once again.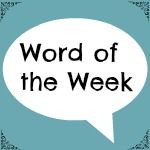 All of which has inspired my word of the week: DO
Do we always have to be doing something? Do we need to be entertained if we're not doing something? In our house we're continuing to try 'doing bored'… I love it! Miss 6 does not love when my response to her is 'it's time to be bored now', but she misses acknowledging the fleeting moment between my response and her figuring out something herself. The only time however that this response does not result in still more 'doing' is when we're in the car. Beautiful beautiful moments when we see her suddenly deep in thought instead of in action. Oh how I love my little whirlwind <3
And now, if you want something to do, how about a DIY Memory Game?