Late for my own wedding …And the problem with white wedding lingerie!
There I stood.
Hair done.
Makeup done.
Dressing-gown on.
Last quick kiss for my mum before she and my sisters climbed into the waiting car.
Shiny.
Gleaming.
Beaming.
White ribbons dancing in the wind.
Fresh cut flowers.
Suited chauffeur.
This is it.
Time for the dress.
The car would be back in 30 minutes.
Up the stairs.
Everything's ready.
Just me, dad, my hairdresser and my veil.
Dress on.
Deep breath.
Ready to go downstairs.
They're waiting.
Neither have seen it before.
Dad is beaming.
They're both beaming.
A moments flinch from my hairdresser.
What is it?
'Erm, I think you can see your underwear!'
WHAT?
Back up to the mirror.
Sure enough.
Clear as day.
You could see the pattern of the white lace.
HOW is that even possible?
How?
It's a lined, satin dress.
It's not thin white cotton.
How can you possibly SEE underwear through it?
Typical white 'wedding' lingerie.
HOW could that even possibly be a problem under a wedding dress?
Everybody knows you don't wear white underwear under white clothes.
Surely that doesn't count for a wedding dress??
I don't think I've ever even seen skin coloured 'wedding' lingerie!
Aren't you supposed to wear the white lingerie under your dress?
I've got NOTHING else!
The case was packed and already at the hotel.
I have absolutely NOTHING else.
Even dad's understood I can't wear that underwear!
– And that's saying something.
'I'll look in your mum's draw!'
I didn't even need to put words to the look on my face.
'I'm driving into town and buying something skin-coloured commands my hairdresser.
'What's your size?'
And out she ran.
I can't even believe what's happening here.
Ok, the car isn't here yet.
Dad comes down empty handed.
Please God, let's have a shared understanding that I CANNOT POSSIBLY get married in my mums underwear.
I don't even want to start that conversation.
'Shall we have a cup of tea' I venture?
I don't know if that was the unequivocal moment of truth proving my absolute Englishness?
An expression of complete faith in my hairdresser?
Thorough RESOLVE that this situation was despite all odds going to be ok.
The utter completeness of my optimism.
Shear shock.
Or a gesture of total relief at not needing to dwell a split second longer on the thought of getting married in my mum's underwear!
Dad made tea.
Still no car.
No ribbons.
But no hairdresser either.
I'm not from a big town.
I can see two advantages in that, and one possibly fatal negative.
You can pretty much park in front of a shop and run in.
The shops are so close together you can definitely run from one to the next in a matter of seconds.
I can only think of four shops that even sell underwear!
What if they don't have anything?
No!
That's impossible.
It's summer.
Everyone knows that everyone needs skin-coloured underwear.
Especially in the summer.
It's going to be fine!
(Sometimes I think you just have to tell yourself things.
Preferably in such a tone that it is absolutely impossible to disagree).
No car.
No ribbons.
No hairdresser.
Really, the wedding car should be here about now.
I wonder what's happened to that?
The chauffeur was going to drop them off and come right back right?
Or?
What else would they be doing?
Maybe he ran into a bit of traffic.
It's a nice day at least.
Maybe I don't need to be standing by the open door in my dressing-gown!
…Why not!
No car.
No ribbons.
No hairdresser.
'What do you think's happened with the wedding car?
…He must have got stuck behind a tractor or something!
Just as well!
We're not exactly ready here anyway.'
What was dad supposed to contribute to that conversation?
Obviously it wasn't a 'question' at all.
No car.
No ribbons.
No hairdresser.
A little soul searching.
A little stretching of my optimism.
…Are we going to be late?
Where's the car anyway?
Seriously.
The wedding car should have been here by now.
And I STILL DON'T HAVE ANY KNICKERS!
WHY haven't I tried everything on together before?
I've tested the hair.
The makeup.
Measured, fitted and tried the dress.
Tried the lingerie.
WHY didn't I put them on together?
Why haven't I stood in front of a mirror and checked every single angle?
I've read EVERY wedding magazine published in the last 6 months.
I've NEVER read an article about buying skin-coloured lingerie.
It should have been a headline on the front-page of at least one/month!
I don't remember even seeing a spread of skin-coloured lingerie.
There's a car!
WHICH car?
Ribbons.
OH CRAP!
I bet she can't find anything.
Right.
I'm not wearing any then!!
Seriously!?
This is going to be a long day.
I'd REALLY rather have underwear.
I'm about to walk into a church for goodness sakes!
In RUNS my heroine.
She's been to all four shops.
These are the ONLY ones she can find.
I don't care!
They're my size.
They're skin coloured.
Back upstairs.
Seriously!?
Whatever.
Dress back on.
Deep breath.
Down the stairs.
They're waiting.
They've both seen it before.
Dad is beaming.
They're both beaming.
Definitely a body scanning gaze.
But not a moments flinch.
Veil.
Car.
A few quick photos outside.
They've only been waiting 40 minutes!
…But it's not the wedding they'll always remember because the first thing they saw as the bride came into the church was her knickers!
Linking Late for my Own Wedding and the Problem with White Wedding Lingerie with #BrilliantBlogPosts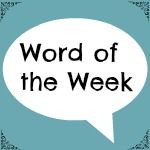 My Word of the Week: Lingerie
Yes, well I think that one was self explanatory!
10 Comments