Having said that we were going to a park, the girls were not impressed when we stopped the car and they couldn't see any swings, climbing frames or slides. Miss 6: This isn't a park!. Ten minutes later they were climbing up onto, between and around smooth, giant boulders. "This is the best park ever!"
Joshua Tree National Park
I never knew that Miss 6 was actually a mountain goat until today! Sure she's climbed in a few trees, but that's nothing on the leaps and bounds she was making over these huge lumps of rock, vanishing over or around another every time I looked up.
Miss 3 is fearless. It has nothing to do with what she thinks she 'might' be capable of doing. If the challenge is there, she's up for it. If somebody else can do it, she's already off.
Not loosing Miss 6 meant quite a bit of assistance at the rear for Miss 3. About the closest we were getting to her was a few rocks away while she stopped for a second just to look around! Only when she finally had a great view of pappa down at the bottom with Mr 1 did she stay put long enough for us to catch her up, then she was ready again. This time there weren't huge ones walling us in, now we were on the highest platform and though there were wide,
stable rocks to continue to climb up on there were also steep drops on either side.
'Sorry Sweetie, we need to go down from this bit now!'
I'm grateful she hadn't already started on up before she listened. Grateful we could stay for a second, look around and realise how high we'd come… 'Come on then Mama! Let's go down and up another bit!'
…And there were no end of 'other bits' to climb up.
This place is truly astounding. The random piles of rocks shooting up from the sandy ground. The surreal Joshua Trees between them all. The cactus and the spring flowers. The wind, the silence, the vastness of the sky. It's the perfect setting for an alien planet shooting.
'Watch when you're coming down, I just saw a snake between the rocks there' – a passerby alerting me to another of the realities! So I stopped staring at the sky for a moment to get us all around that rock.
The girls loved every minute of it so we were there for hours. When they'd explored one group of rocks we moved on to the next …And I discovered something else, I love to climb on giant boulders too!
Joshua Tree National Park is going to be a bit too far for regular visits once we return from our California road trip, but I've promised the girls we'll find the best coastal boulders in Sweden and go climbing there instead. Tips, anybody?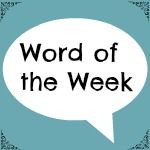 My Word of the Week: CLIMB
Climb climb climb! You are never too old to climb. I LOVE that we've discovered that we love to climb!
If you're planning a road trip in California with kids, Joshua Tree National Park is not to be missed. Anything less than a whole day and you'll just be missing out, so better to stay nearby for two nights to really BE there and enjoy it.