Picnic breakfast on the beach with three little ones – in their winter coats!
Well my Little Man fell asleep again before we even left the car, but I'll count him anyway!
'But there are no beaches in Sweden' insisted Miss 6 … Hmm, we have not done a good job revealing the diversity of our surroundings! 'How long are we going to drive? …10 minutes! …ok I'll find a bucket!'
We cooked our Apple Cinnamon Flapjacks and prepped our thermoses, the girls running around exhilarated, or in Miss 6 case exhilaration combined with intervals of uncertainty as to whether all this was actually true! – Perfect! Not only were they loving that we were going to have a picnic
(it's March, and this is Sweden!), loving that we could go straight away… Before breakfast, and loving that it was a beach.
A beach pretty much to ourselves. Not bad at all!
We ate our warm flapjacks in holes dug into the sand mounds and (my best moment) snuggled up drinking hot chocolate whilst hiding out from the strongest gusts of wind. How long will Miss 3 want to snuggle? I have no idea, so I'm making memories of every time.
There's a little park right in the sand with a crazy rocking
boat & swings to try once they discovered that it wasn't working to make a sand 'bridge' over to the big stone 2 meters out from the edge of the water. Despite having loaded and dragged huge bucketful's of sand over there, the waves were just washing it away. They dug out letters and filled them with water, 'planted' the twigs they found laying around, searched for shells & of course got soaking wet!
'Did you like the beach?' I asked in the car on the way back to dry clothes, 'Yes! …But it's not a real beach!' added Miss 6 '…There weren't any shells!'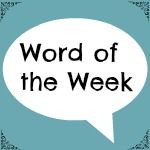 My Word of the Week: SURPRISE
I love when there's a disruption to 'the routine', intentionally choosing to do something beautiful with the kids, just for fun, just to surprise them …Especially consciously making a choice to do it anyway even when they're behaving less than angelic, because it's got nothing to do with them 'deserving' it, it's because we love them anyway!
Like the look of that clear water? You can check out my #silentsunday shot (here)
Fancy selling breakfast instead of eating it? Check out our DIY Shop & Brownie Sale (here)
Something indoors? What about a homemade memory game (here)
Or, go on, shock your little ones! Pack up your food & have a Picnic Breakfast on the Beach 🙂
28 Comments