Every parent needs backup plans. Not just a babysitter to fall back on, but instant pick me up tools for the end of exhausting days. These are Five instant, easy pick me up tools that you can always have to hand.
5 Instant Pick Me Up Tools for Parents
1. Get out your photos! Pick up your books, albums, smartphone, laptop, and start looking at your old photos together. It just happens to be the case that we only tend to take out our cameras and snap away when there's beautiful in front of us. Whether it's precious moments, memories or people.
That means we have thousands (and thousands) of images of happiness, contentment and beauty just waiting to be rediscovered. And there's something magical about the fact that even when it's our kids who've exhausted us …We still get all gooey and lovey dovey looking at their little faces on screen or in print.
2. High Five! As soon as a job is done, whether it's their teeth that have been brushed, that they're out the door in the morning, that breakfast actually made it to the table, that they're finally in bed …Give each other a high five! I know it sounds absolutely ludicrous! But it's like a secret language, acknowledging in our exhaustion that we've come one step further. That any and every success IS a success, and is one for the team. That you're in it together.
3. Stash your favorite pick me up /survival food /drink somewhere! Whether it's ice cream, chocolate, baileys, nachos, a beer, a bottle or red wine. At the end of a long hard day, when you need a break the most, be prepared! It's as vital a stash as baby porridge and fruit puree is for your toddler!
4. Have something fantastic laying ahead, your next dream, your goal, your holiday, your destination. Have something in front of you that you're looking forward to. The carrot that's ahead. The silver lining on an exhausting day. Talk about it, dream about it, live in it! The babysitter you've booked a week from now; the friends night out; the concert; the holiday; the massage, the day alone… Whatever it is. Just make sure you've got one. Something to look forward to.
5. And lastly, pull out your happy place file! Your very own backpack of resources ready to be pulled out at a moments notice and brighten your day. Start putting it together now. A playlist of your absolute favorite music. A list of your absolute favorite, all time most hilarious youtube clips. Comic pictures that just have you laughing giddy. Start gathering your material. This is your very own personal pick me up, and it's as fun putting it together as it is once it's in place!
Need an example? Here's one of mine 🙂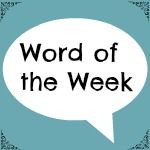 My Word of the Week: SURVIVAL
Right now, this week, I'm surviving. But I want to do more than survive. I want to enjoy the ride! Having chocolate in the cupboard, high fives perfected, a huge library of the cutest baby pictures, and something beautiful laying ahead, there is a silver lining and this too will pass.
What are your best pick me ups at the end of the day?
Linking up '5 Instant Pick Me Up Tools For Parents' with #PoCoLo, #SHINEbloghop, #BrilliantBlogPosts, #TheList & #FamilyFriday
18 Comments