Chili Roasted Butternut Squash
One of my absolut favorite dishes right now is chili roasted butternut squash. The juicy sweetness is a perfect compliment for all winter leftovers and it makes a delicious main when combined with walnuts and a creamy feta cheese. This has become my go to dish for a low carb alternative to potatoes, rice or pasta, and when thinly sliced it makes fantastic bar snacks too.
I love the combination and kick of thyme and chili on the roasted butternut squash, but of course you can season it however you like.
Choosing a perfect butternut squash:
Make sure to select a firm, heavy butternut squash with no soft spots, punctures, bruises or wrinkles.
To peel or not to peel?
I used to peel butternut squashes, but not any more! It's perhaps a matter of preference, but besides from the obvious speed and simplicity of not peeling it, the peel adds a wonderful texture to the dish. Once roasted the flesh of the butternut squash is sweet and tender. The peel keeps a thin crisp resistance, and holds the pieces perfectly in shape – especially helpful if you're making bar snacks or nibbles.
How long should you roast the butternut squash?
Recipes normally recommend about 30 minutes and that is certainly about the time it takes for the pieces to be tender. Personally however – and I always say this is because I'm English(!) – I like my roasted vegetables slightly browned and crispy, so I like to roast them a little longer, about 40 minutes.
Chili Roasted Butternut Squash
Serves 4
1-2 butternut squashes, about 1 – 1 1/2 kg (2-3 pounds) in total
olive or rapeseed oil
a couple of garlic cloves, peeled
1 tsp dried chili flakes
1 tsp dried thyme
METHOD:
Have you tried chili roasted butternut squash?
What dish is your favorite side?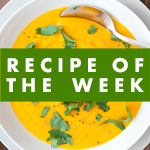 Looking for some other delicious treats? Check out these Beetroot Goats Cheese Puff Pastry Tarts
Roasted Chestnuts with Cognac Butter & Blue Cheese 
7 Comments