The Ultimate Guide to Roasting Chestnuts
I was totally new to roasting chestnuts when I started this little project, and now, to save you the time it took me to find all the answers I was looking for, here you have it in one place. Including all the things I learnt by doing it wrong!
Are all chestnuts edible?
Not all chestnuts are edible. There are Horse Chestnuts, and there are Sweet Chestnuts. Horse Chestnuts, which are the common variety you'll find growing in most gardens, parks and forests are toxic. Which is why we can get our hands on as many of them as we like for autumn crafts, table features and Conker Tournaments. Not even the animals want them!
Sweet Chestnuts are delicious, low in fat, high in protein, gluten-free, and bursting with vitamins and fiber

(Dennis Fulbright, professor of plant pathology at Michigan State University).
How can you tell an edible Sweet Chestnut from a toxic Horse Chestnut?
Thankfully the chestnuts are easily distinguishable.
If the chestnuts are still in their husk you can tell them apart by how prickly and unpleasant they are to hold. Picking up a sweet chestnut is like picking up a little cactus! The husk is covered in needle sharp spikes. The husk of the horse chestnut is much smoother, with only a few warts, and quite easily picked up without prickling.
The chestnuts themselves are also different in shape. Sweet edible chestnuts have a pointed end, hard to the touch as shown in the picture. Horse chestnuts are roundish with no pointed end.
For a great picture of the sweet chestnut husk and more from Dennis Fulbright click here.
How to choose fresh chestnuts?
When you're going to eat chestnuts they need to be fresh! This means smooth, shiny brown surfaces. No wrinkles. Heavy to hold and no gap between the shell of the chestnut and the flesh inside when you squeeze it.
Small holes in the shell may likely be worms, and dingy shells may indicate mold so don't bother with those!
Prior to roasting chestnuts, you need to make an incision in the shell.
An incision has to be made into the shell of the chestnut or apparently they'll explode! I didn't check this out myself.
Start by taking a sharp knife and cutting a little cross into a rounded section of the shiny brown shell. When you roast them the cut is going to be at the top, so cut into whatever you deem to be the top of your chestnut when it's laying on a flat surface.
The cut only needs to be a few millimeters (1/8 inch) deep – going through the shell and as little as possible into the flesh inside.
Some sources recommend making a singe insertion that goes nearly all around the chestnut, others recommend a cross. I've tried both and I'm happy to report that as long as you've chosen nice fresh chestnuts, once roasted the shell peels easily away from the flesh inside, in fact the chestnut almost falls out,
so a little cross is much less fiddly than trying to go all around the circumference!
This bit is a little tricky, so give yourself a bit of time to cut into all your chestnuts.
One site recommended using a cerated bread knife to do this – totally useless!
In the end I found the easiest and quickest way was to use an extra sharp knife and push gently down onto the surface of the shell; but you have to be really quick at releasing the pressure once you've cut through the shell, or you'll chop the whole chestnut in half. I know, because I did it (more than once)!
If you cut too deeply into the flesh of the chestnut it turns out very dry once roasted. Not totally ruined but not quite the luxurious treat it could have been.
The Ultimate Guide to Roasting Chestnuts
Pre-heat the oven to 180c / 350f, and pre-heat the oven tray or skillet that you're going to roast the chestnuts on.
Once you've slit the shells, place the chestnuts on the heated oven tray/ skillet, slit side up, and roast them at 180c / 350f for 25-30 minutes, until the shell starts to peel away from the nut.
Transfer the roasted chestnuts to a cutting board and cover with a kitchen towel. Wait just a few minutes until they're cool enough to handle, then peel off the shell and papery layer beneath. It is considerably easier to peel off the shell while they are still warm.
This is also the moment when you know if you chose your chestnuts wisely! Older chestnuts, that had a little gap between the shell and flesh inside for example are ridiculously hard to peel. The shell of fresh chestnuts breaks easily off.
Chestnuts are not only easier to peel warm, they're also most delicious when served warm.
What consistency are roasted chestnuts?
Roasted chestnuts have a similar consistency to cashew nuts. Not crunch and hard, but soft and solid.
What do roasted chestnuts taste like?
Roasted chestnuts have a mild, filling nutty flavour.
Top tip for serving roasted chestnuts at an informal party, or while entertaining outdoors:
Take the chestnuts straight from the oven and put them into a brown paper bag. Let everyone take them out as they're ready for them and peel them themselves. That way they're as warm as can be.
In France chestnuts are traditionally served with melted butter, sea salt and a glass of red wine.
In America I've seen lots of combinations of spices you can add to the melted butter, getting a beautiful christmas feeling with cinnamon, nutmeg and sugar.
My personal favorite is Roasted Chestnuts with Cognac Butter, and a nice wedge of Blue Cheese. I guarantee you won't be disappointed!
To finish off, I'd like to throw in a nice little piece of British culture. In case you have no idea what a Conker Tournament is. This clip is fantastic (including the 'How to cheat' section – also very British)!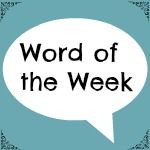 My Word of the Week, you might have guessed, is: CHESTNUTS
…Roasting on an open fire… Ok! I'll stop singing to myself now. Far to early to be humming winter songs to myself!
Linking up The Ultimate Guide to Roasting Chestnuts to #BrilliantBlogPosts, #SHINEblogHop, #PoCoLo & #TastyTuesday